Today is the Day After Opening Day in the year 2020. 

It's the first Day After Opening Day my wife and I aren't attending since 2005.*
The streak we didn't know we were starting began with one of our earliest dates. That night I introduced her to the thrifty dirtbag magic of parking outside Dodger Stadium (but we'll get out so much faster), schlepping in our own sodas and water, and haggling for cut rate tickets out in a lawless patch of parking lot beyond the Left Field Pavillon.

As a Dodger fan accustomed to her company's corporate tickets that included a preferred parking pass, this was a whole new experience and little did she know how much of a glimpse into her future it would be. If I would have waited half a second longer to tell her I was kidding when I asked her to help me steal a jar of spicy brown mustard, I swear she would have run up the aisle, never to be seen again. 
Tonight we should be celebrating 15 years in the bigs. That's what the caption was going to say on our annual Day After Opening Day selfie. (Thought of it weeks ago.) But instead, we'll probably find something to watch on Netflix and fall asleep on the couch like we do here on whatever day of COVID-19 self-isolation it currently is. 
Tonight I'm going to miss that first-game-of-the-season anxiousness that would kick in around 4 o'clock. We would have planned to leave for the Stadium around six like we usually do but the temptation is always too much and we'd be out the door by 5:30. 
"It's already baseball season?", our South African neighbor would quizzically ask when he'd spot us running down the steps to our garage.

"Oh yeah. Got 161 more after this one too," I'd say.
Then he'd shake his head and we'd be off on the 12 to 18 minute drive to Elysian Park using our secret longcut through Chinatown to beat the traffic.

Heading up Stadium Way, we'd scout the $5 lot. If was empty, we'd take that as a sign to roll the dice and hunt for a free spot. If it was filling up, we'd play it safe and park there. (2008 was the last time we paid the full price to park. My mom was in town and I wasn't allowed to make her hoof it into the Stadium.)
Assuming we snagged a free spot, we'd start hiking up Scott Road and we'd mutter to each other that we need to start hitting the trails of our neighborhood park. Halfway up, I'd pause to check out the status of the perpetual free wood pile. I'd step on some mulch to gauge its density and excitedly ask my wife to remind me to bring a shovel on Sunday. Of course I'd mildly embarrass her by asking loud enough for fans walking by to hear.
I'd stop and grab a few photos of the Welcome to Dodger Stadium sign and we'd catch our first glimpse of the ballpark. The lights would already be on and the air would be electric. We'd look out into the hills and point to the four palm trees we can see from our backyard and say "Our house is that way." (We do this every time. We're such dorks.) I'd start an awkward conversation with a fan wearing the jersey of an obscure player and we'd say thank you to the crossing guards and complain about a staircase to the Reserve Level that was mysteriously removed during a road trip back in 2016 as we trudge all the way up to the entrance.
Upon seeing the crowd forming at the Left Field Gate, we'd start fast walking it alongside the row of news vans. Then I'd blow our advantage by asking a lost looking fan if they need help and before you know it I'd be in full tour guide mode. Then we'd jump into the shortest line that ends up being the slowest. I'm a ninja through security. The guard checks to make sure our binoculars aren't smuggling booze and slides my bag containing a Coke, a Diet Coke, two bottles of water, and a jacket for the lady across the table. Meanwhile, said lady scolds herself for not bringing a smaller purse.

We'd bypass the self-service concession stand and laugh at all the suckers snaked around in line. If they only knew there was an identical stand out towards shallow right that's never busy. I'd grab two Dodger Dogs while she carefully selected a much superior (in her opinion) all-beef Super Dodger Dog. We'd debate getting fries. I'd point out that the garlic fries are a buck more expensive this year. We'd consider regular fries but, garlic always wins. We'd go to the cashier on the left who always welcomes us back and I'd ask how the team looked during BP like I always do and get a solid breakdown in return. (Dodger Stadium employees work the same spots season after season and it really gives the largest park in baseball a small town feel.)

The condiment station is where we go our separate ways. Visualize an obscene amount of brown spicy mustard. Now go a step beyond that. That's what I require for my dogs along with a sprinkle of onions. A couple yards away, my wife would be laying down a single stripe of yellow mustard that's blueprint straight.

My next stop would be the beer cart. From a few steps out, I'd unfurl the tall can koozie stashed in my back pocket with more style and panache than Jon Woo directing a pigeon. "May I please have a Mango Cart?", I'd ask. The beer dude would take my koozie and sheath my beer as if it were Excalibur, which is the only way to treat a 17 DOLLAR AND 75 CENT CAN OF BEER. I'd thank him and drop the what was left from my twenty into the tip cup. This is the one day of the year I am excited about paying 20 bucks for a beer. 
From the top of the aisle that leads to our side of Section 2, I'd take a big sip and savor a view that will never get old. I'd find my wife already in her seat having some laughs with Cora, a retired nurse who sits in front of her. I'd say hi to Michael and Kathleen in the row behind us and try not to trip or pull a muscle climbing over to my seat. Cora's husband Ruel would say "Hi, Guy" and immediately pick up his tirade from last October right where he left off before shifting gears to workshop his new heckles for 2020. He's a retired copywriter and brings notecards of his heckles to games. It's the yin and yang of adorable and sinister and "0-for-Forysthe" will always be a favorite. 

Directly in front of Cora and Ruel are Marc and his dad. When we first got our seats in Section 2 back in 2014, we referred to Marc as the guy who was always mad at Brian Wilson. Now he's on our cats' elite list of humans approved to enter their house. Next to Marc is a family that will be down a member this year. Their daughter (who was just a kid a couple years ago) graduated from UCLA and took a job in enemy territory not far from whatever the Giants call their ballpark these days. While we're down one, it's still a net gain as our friends James and Ashley joined the Section 2 Fam this year.
In the seat to my left would be a guy named Don. He'd greet me by asking us how much we got for our Opening Day tickets and then make a comment about maybe selling his next year but he never does. If his wife was with him, we'd skip the pleasantries and start trashing each other's college football team. If it was his daughter, we'd be comparing notes about The Rise of Skywalker.

A few seats to Don's left is a woman and her daughter. Maybe this year will be the year we exchange names but until then the air of mystery is fun. We'd all break into first day of school hellos from across our little hallway before collectively questioning our sanity for coming back for more after yet another season that ended in heartbreak.
The next order of business would be to spot Chuck, the legend of Section 2. If he's not already in the seat he's had since 1977 and reading a neatly folded LA Times, this is where I'd turn into a worried mother. Chances are he just went to get up cup of ice. There'd be an ovation waiting for him when he returned from the folks who weren't there when he first arrived. (Chuck is always the first to arrive in Section 2 so ovations happen often.)
The Aisle 2 gang would already be in their seats. They've presided over the same side of Section 2 since before it was even known as a section and they have the weathered Aisle 2 t-shirts to prove it. In their eyes, we're still considered the new people even though our cluster has been together for seven years. 
Now it's about time for Todd Leitz to boom in with his "Welcome to Dodger Stadium" intro and we'd know the game is getting close. Dieter Ruehle would break into the Welcome Back Kotter theme and we'd laugh and wonder what clever new songs he has on deck. 
Then we'd stand for the National Anthem. I don't remember exactly when I adopted the same stand-at-attention stance that Marc and his dad do but I'm always optimistic that maybe will inspire someone to stop recording the singer and put their phone down for 90 seconds.

Next on the agenda would be the starting lineup for the San Francisco Giants. At the first utterance of their name, an avalanche of boos would cascade down to the field from every corner of the Stadium and a welcome rush of hatred coursing through our veins would tell us baseball season was officially back.

The Dodger lineup is as familiar as a well worn glove by this point but my wife and I would be fighting over the binoculars like a couple of kids on mile 500 of a family road trip to get our first up close look of Mookie Betts in Dodger Blue. Walker Buehler would strut in from the bullpen and we'd be yelling down to the visiting dugout to ask the Giants why they even bothered to show up.

The top half of the inning would end with a 'chicka-chick-ahhh', the first two hundred plus Ks for Buehler and then it would be time for the Dodger bats to pummel the Giants into submission. By some small miracle, it'd be three up and three down and we'd all be muttering that this season is cursed and the team will never score a run. 

Try as the Giants might, the dam eventually breaks and scoreboard turns into a slot machine. While most people in the Stadium will say this happened because the Dodgers are a vastly superior team, those of us in Section 2 know it's because Ruel has mystical powers that only work when he runs to the bathroom. And he'll let us know it was all his doing when he returns after the third out and loudly declares "You're welcome!" 
By the third home run of the evening, a tourist in Section 2 notices we all high five and asks if we know each other. We laugh and after the next dinger we're high fiving our new friend. It would feel so good to high five a stranger right now. 
In the middle innings, the Dodgers inevitably make the kind of boneheaded play that makes you wish Vin isn't watching at home and gives you pause that they might not finish the year 162-0. Miraculously, they find a way to overcome their momentary stupidity and snuff out the Giants' rally before it starts, giving us renewed hope that such an unprecedented streak could very well happen.  
Sometime after the cap shuffle (which somehow found a way to get harder), my wife and I would spend most of an inning trying to take that annual selfie. As you know, selfies are serious business so we'd take a bunch while trying not to embarrass our selves too much and then I'd hand my phone over to her until she carefully selected the shots worthy of being seen by the public. 

Before we know it, it's time to stretch and sing along with Dieter for Take Me Out to the Ball Game. I'd seize the opportunity to put my arm around my wife and she'd say it's only because I didn't listen to her and when she said to bring jacket.
From this stage of the game, the next item on our Day After Opening Day bucket list is for DJ Severe to drop California Love and see Kenley run in from the bullpen to shut this game down. He doesn't need to play but since his services weren't required the day before, Doc thinks it's a good idea for him to unleash a few cutters and give the rest of the League their first glimpse at a new and improved Kenley.

The Big Man makes quick work of the three Giants that are keeping us from hearing Randy Newman for the first time since last October 3rd. The opening chords blast through night and it sounds sweeter than we remember it. We all do our little victory celebrations while Marc and his dad keep it formal with a handshake. When the moment comes, my wife and I both yell "Sixth Street!" at the top of our lungs. It's our favorite line in I Love LA and it makes zero sense.
Feeling the glow from the first of many wins of the season, we stick around for the Friday Night Fireworks. I take at least 50 pictures that turn out blurry and all of us in our quadrant of Section 2 make plans for when we'll see each other again.

When you crunch the numbers take come with 81 home games, you quickly realize that you spend more days and nights with the folks around you than with actual family members, which is probably why we all refer to ourselves as family.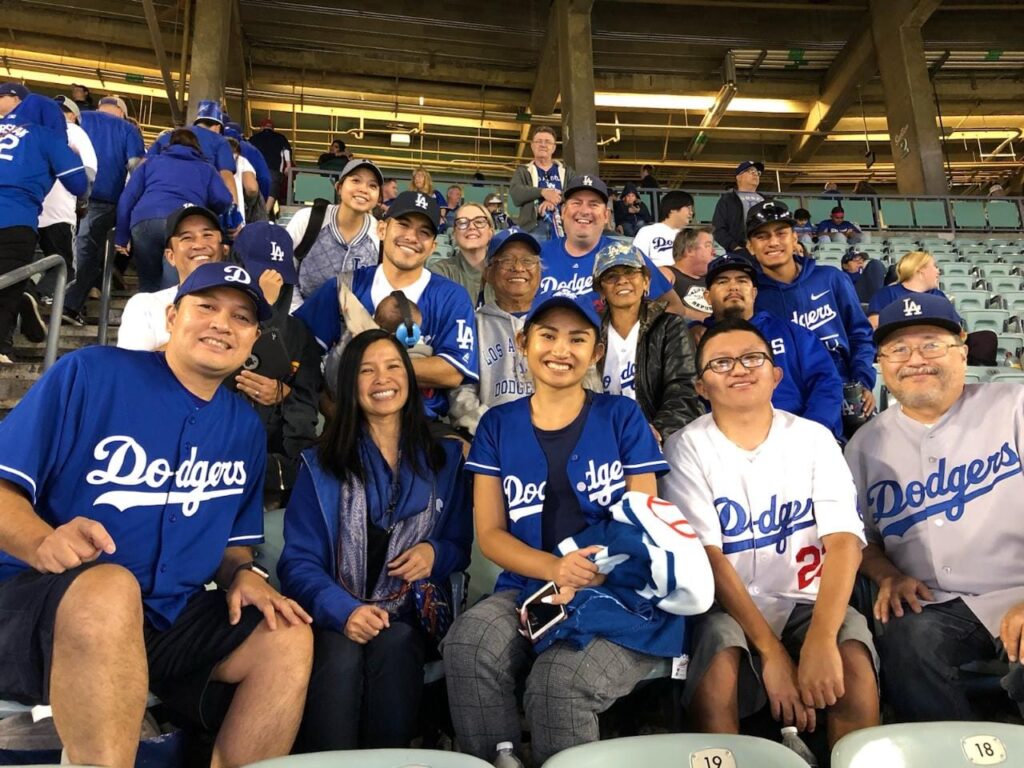 My wife and I retrace our steps on the way out. Walking through the concourse, I'd probably high five a kid riding on his dad's shoulders and we'd Frogger our way across the parking back to the Scott Road gate and share some laughs with other fans doing the same. If all those people stuck in traffic only knew how much faster you'd get out by parking outside the Stadium.

On the way home, we'd listen to Dodger Talk heckle the callers who make you wonder if they were even watching the game, which is pretty much every caller.

And we'd definitely stop for tacos.

*Remember that asterisk all the way back at the beginning? It's because last year my lovely wife Facetimed into the Day After Opening Day from her Airbnb in Prague where she was on a European adventure with her BFF. She stayed up late to call in for the start of the game to keep our streak alive. Then a few hours later, she sent a good morning text and I replied back that I was still at the game. As you may recall, game 2 of the 2019 season required six hours and five minutes to play 13 innings and ended just shy of 1am. To paraphrase Joe Davis, the second game is always weird and that one definitely was.

Here's hoping we get a second game sometime soon.