Hey there,
Remember this blog that fell off the face of the Earth right when the Dodgers started their playoff run last October? Well, it's back for 2017 and there's a long story about why it vanished at the end of the regular season.
(The story itself is boring so I'll spare you the details. Let's just say you never want to get swamped with house hunting duties while the Dodgers are in the middle of a playoff run. It really drains your free time.)
Now that we've got that out of the way, let's do a little recap of the 2016 postseason. We'll make it quick.
Game 3 of the NLDS against the Nationals (aka the Dodgers' first home game) was the first time my lovely wife ever saw the Dodgers lose in the playoffs, dating back to our first playoff game together in 2008. She'd been such a good luck charm that we didn't even think to get a playoff selfie until we left the stadium. In the background, you can see the FREE wood pile that can be found along Scott Road. Seriously, if you need free wood, there's always a pile right next to the stadium. Have no idea where it comes from.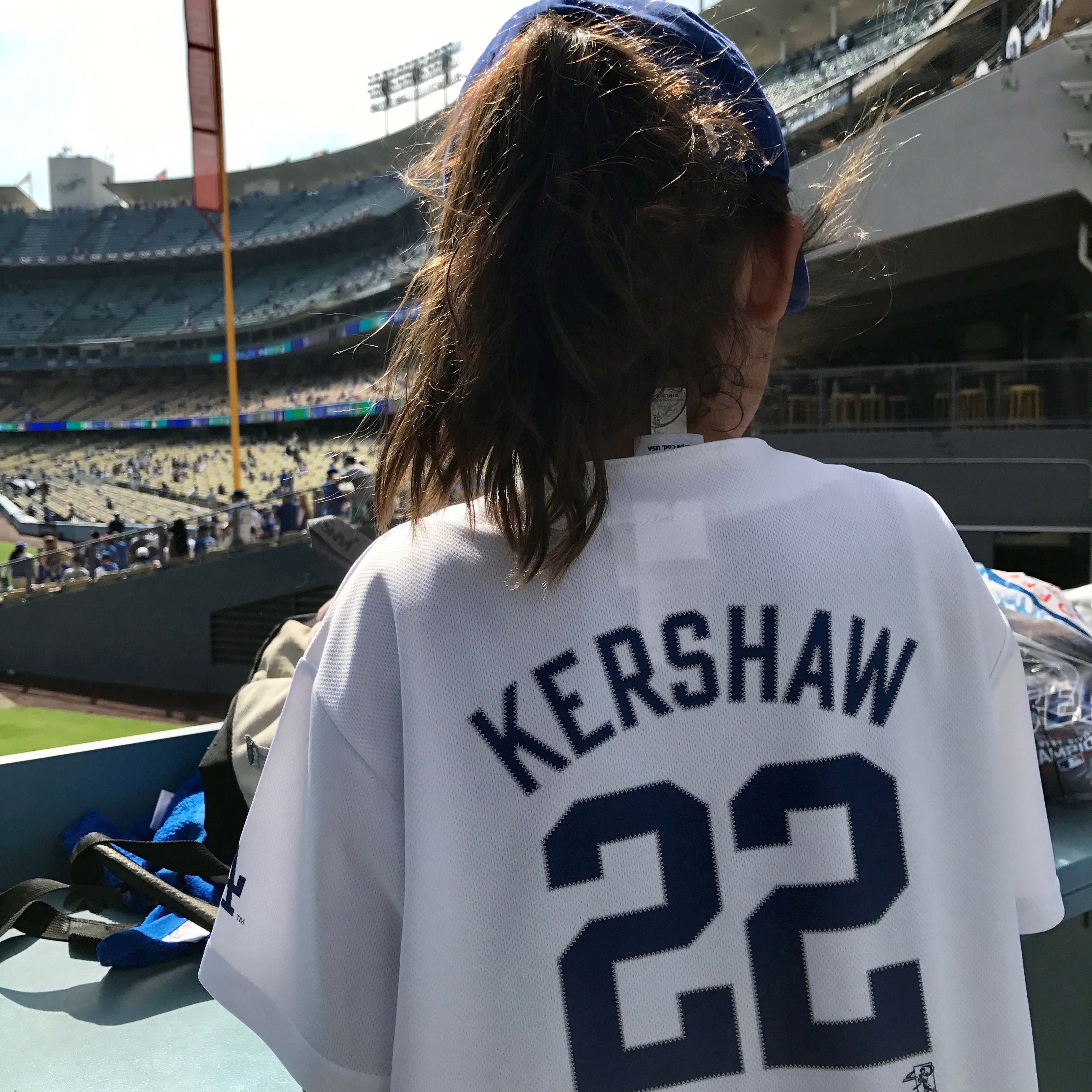 In a tie for my favorite moment of the 2016 playoffs was this kid rocking a Clayton Kershaw jersey during the must-win game 4 against the Nationals. Kershaw was on the mound in a total ride or die situation and I got to see this kid have the best day of her life.
I arrived at the stadium early to stake out my usual spot over the bullpen and this girl and her dad showed up in the nick of time to snag the last available seat, which happened to be right next to me. They weren't there for more than 30 seconds before her dad asked if I could keep an eye on her while he ran to the restroom and hit the concession stand.
Before I could even let him know I was marginally qualified for the task on my best day, he was gone. Words can't describe what an avalanche of responsibility it is to be suddenly put in charge in the well being of a random child. Before her dad sat her down next to me, I was a dude sitting by himself day drinking a Bud Heavy and somehow, I was deemed "responsible enough." I still can't believe it happened.
While her dad was away, we had a nice little bro down and it didn't take long to realize she knew more about the Dodgers than me. They lived up in Ventura and her dad surprised her by pulling her out of school to take her to the game. She had no idea it was happening until she was called down to the principal's office to get checked out for the day.
After about 45 excruciating minutes, in which every horrible scenario flashed before my eyes, her dad finally returned with pizza slices.
If you're keeping score at home, this kid was pulled out her fifth grade class to go to her first Dodger playoff game with her favorite player pitching AND she was having pizza for lunch.
Now here's where it gets unbelievably good.
Once her dad was returned, he started talking strategy to her to try to snag a ball from Clayton during his warmup. I chimed in with the tip not to ask Clayton but to ask pitching coach Rick Honeycutt right after he gave Clayton a fresh ball.
After Clayton threw this very pitch, here's where the ball ended up.
Can you say best day ever? Playing hooky from school to see the Dodgers win in the playoffs, pizza for lunch, AND you get a ball from Clayton? It doesn't get any better than that and my new friend was a total pro. She yelled 'Mr. Honeycutt' right on cue and made a clean barehanded catch. It was awesome.
---
This was our fireplace when Kenley took the mound in the bottom of the 7th in game 5.
I don't know if I'll ever see a performance as heroic and Kenley and Kershaw tag teaming for three inning save.
---
In the other spot for favorite moment of the 2016 playoffs is my buddy Mike. This GIF is from the Dodgers' 6-0 romp over the Cubs in Game 3 to take a 2-1 lead in the NLCS. I've never seen him so happy in his life. This is exactly where hopefulness peaked on the season.
Unfortunately we all know how things ended.
Another year, another photo of Marc wallowing in his misery.
Finally tally on season: 45 games attended (including the playoffs) and 43 Dodger Dogs consumed.
Now that we got that out of the way, let's step into the present.
The matchup: Dodgers vs Angeles (4.1.17)
Special Guest: My lovely wife. This game marked the start of our 12th season together.
Snacks: Dodger Dog (x2), mooched some of my wife's fries, souvenir sized Coke.
Giveaway: Nope.
Memorable Moment: The best/worst rundown play I've ever seen in my life at any level of baseball.
RECAP: 
In our fourth season of being season ticket holders, this was the first year we took advantage of our bonus tickets to see a Freeway Series game. We usually give them to friends but this year we had an important mission. We needed to make a test run to the stadium from our new address.
Seven minutes after we pulled out of our driveway, we slid into our secret parking spot and cackled like idiots at the fact that we now live 2.4 miles from Dodger Stadium. This season is already off to a fantastic start.
You see those circled palm trees?
Here they are as seen from our backyard.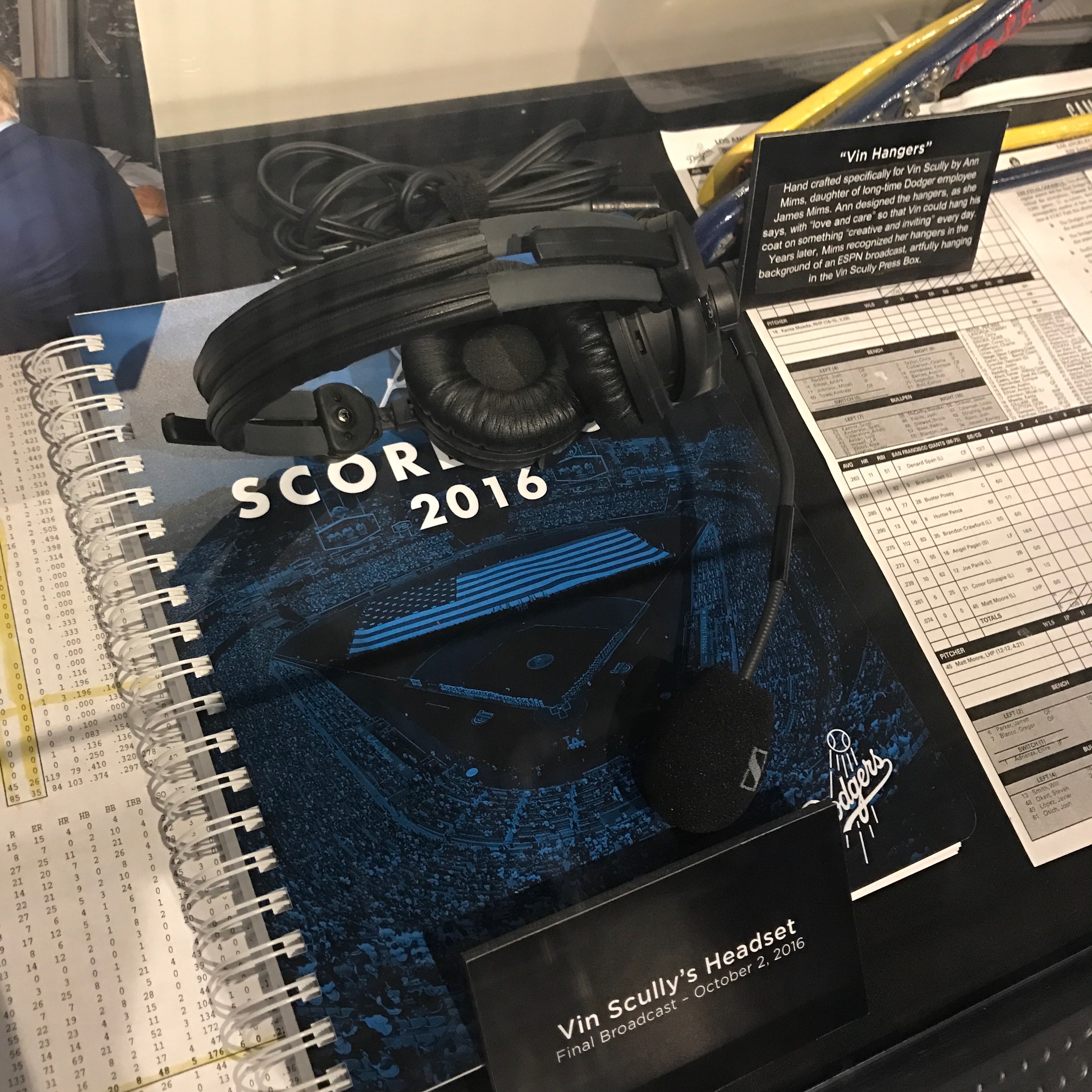 If you can make it down to the Club Level concourse, there's a new display honoring Vin. Can't say that it didn't feel strange not hearing him at Dodger Stadium his presence was felt.
This is going to be a good year.
Let's go Dodgers!